Lincoln

High School




Class Of 1953
"WOODY" invites you to the Ellwood City Lincoln High School Class of 1953 official website. Thank you for your interest in this, our privilege to place the Class of 1953 on the web. Please notify all classmates that you know to log on, and complete their individual profiles.
If you could help those that do not have access to this website, it would be very much appreciated. All comments and suggestions are welcome.
Thank you, and enjoy ...
PRIVACY NOTICE: All contact information (address, phone number, e-mail address) entered into this website will be kept confidential. It will not be shared or distributed. Your contact information is private: your street address, e-mail address, and phone number cannot be seen by the classmates unless you grant permission on your Profile. When someone clicks on your name, the only contact information they will see is your city and state and whatever information about yourself you choose to put on your Profile. Unless you explicitly grant your permission, your email address is not visible, although an email can be sent to you using the contact box at the bottom of your Profile page. Note, however, if you send a message to someone through their Profile page, the Classmate will see your email address so that they can respond.
Classmates Have Visited
This Site
116,819
Times, Thank You
and we
will
talk about you,
Pictures appear on

Life goes faster than you think
So don't blink
A Candle Loses Nothing by Lighting Another Candle..
May the rest of your life,
be the best of your life.
"It's the journey that matters... Not the arrival
CLICK THE BUTTON BELOW
Sit Back and Enjoy
When The Presentation Is Finished, Click The Back Arrow,
Not The X
Then Let Me Know If You Like It
If you are in touch with a Classmate,
and they are not a member of this website,
invite them to join.
It is a great tool to keep in touch and remember.

ALSO..... I could use some of your ideas about what I can do to make "Our" Home Page more interesting and exciting. What kind of subjects would you like to see on the Home Page? Once again, click on the "Message Forum" and let me know and help other classmates to give us ideas.
Please take a few minutes to visit 'In Memory' section. It would be great if you added any personal stories about our friends who have passed on.
TO GET TO THE "MESSAGE FORUM" PAGE QUICKLY,
READ, AND THEN CLICK ON
"POST RESPONSE"
TO LEAVE YOUR REPLY. A GOOD WAY TO KEEP IN TOUCH WITH ALL OF OUR CLASSMATES AT THE SAME TIME. USE IT TO LET US KNOW WHAT IS GOING ON, HOW YOU FEEL, OR JUST TO GET A CONVERSATION GOING. TRY IT! YOU JUST MIGHT LIKE IT!
ADJUST IT TO READ
"VIEW NEWEST AT THE TOP
Go To The MESSAGE FORUM Link and Read Post # 128 About Ellwood City's High School. Information Found In Writing History Of Ellwood City
Please Post Your Response
Just Click on Post Response and Type your Comments or Questions
Try This, If You Dare To...
It Will Link You To A
LIFESPAN CALCULATOR
To Estimate How Long YOU Will Live!
Click Your Browser Back Button
To Return To This Page
LET ME KNOW WHAT YOU THINK
TODAY IS THE OLDEST
YOU'VE EVER BEEN,
YET THE YOUNGEST
YOU'LL EVER BE,
SO ENJOY THIS DAY
WHILE IT LASTS.
Do You Check The Announcements At The Bottom Of The Home Page? Do You Check The Message Forum Regularly? You Can Insert Information On Each Of These Places.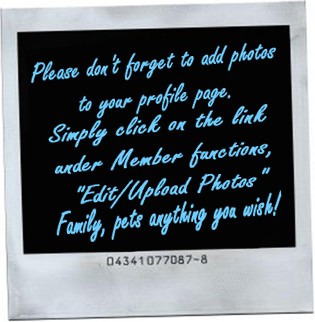 Come on in and look around! Set up your profile, log in and leave announcements and updates so everyone can keep up with what is goin on in your life. It's your site and it's FREE!!!
No trees were injured in the creation of this
web page, but a large number of electrons were
terribly inconvenienced.
Just A Reminder, ... What The Economy Looked Like .. When You Hit The Street ...
Average Income ..... $4011.00
New House ..... $9,550.00
Ford Car ..... $1,650.00
Gasoline ..... $0.22
1st Class Postage Stamp ..... $0.03
10 # Sugar ..... $0.89
# Round Steak ..... $0.90
and a loaf of Wonder Bread
$0.16
Dwight D. Eisenhower was President
Dr. Jonas Salk announced the Polio Vaccine
Popular Movies, at the Manos and Majestic
The Robe
Shane
Gentlemen Prefer Blondes
Remember Dumont WDTV
Those Crazy Test Paterns
Popular TV Shows Were ...
I Love Lucy
Arthur Godfrey
Dragnet
By The Way, Color TV's Came Out In 1953, At A Cost of $1,175.00!
While Some Of Us Just Placed That Blue Glass In Front Of Our Black and White
and, I Know You Remember ...
Williams Dairy,
Pee Wee's,
Triangle Inn,
Nick's Snack Bar,
and Isaly's
Just something to think about!
One day at a time--this is enough. Do not look back and grieve over the past for it is gone; and do not be troubled about the future, for it has not yet come. Live in the present, and make it so beautiful it will be worth remembering. - Author Unknow
Information about the year you were born,
your children, or the year you graduated.
The screen is going to fade to black; have your glasses on, and 'click' on the window "my birth year", and type in the year you wish to view, then "click" on the "?" mark.
You'll be pleasantly surprised with this one... Type the year only!! Then click the question (?) mark!
Sit back and enjoy!!
You will have to click your "back button", to return to this page.
Click The Button, Turn Up Your Sound
To
"Do You Remember These?"
A cheerful heart is good medicine...
May you always have Love to Share, Health to Spare And Friends that Care
I have always been told, you should learn something new every day.
Unfortunately, many of us are at that age where ...
what we learn today, we forget tomorrow.
OK Fellows, Try This 50's Auto Quiz
Sent by Robert Bushyeager
(well, you girls can try it to!)
Click Here Find Out What Happened
On Your Birth Year
ANNOUNCEMENTS
•

Would you like to know when one of our Classmates is ill, having an operation, receiving an award, or has moved? If so, let us know! We can update you on this Home Page, or we could email you of the various events if you desire. Go to the Message Forum page, click on Post Response and let us know...NOW! Do you have any photos we could use on this website? How about the Snow in 1950 - Senior Day - Prom - previous reunions. Please contact us if you do. We can accept email attachments, disks, or original photos that will be returned.

Help make this, your site, interesting.